Victoria House is a three story office block in Bramhall, a suburb of South Manchester, that was refurbished and now has the capacity for up to ten tenants.
The owner of the property, Quorum Estates Ltd, realised however that the area that each tenant occupied needed to be varied and in order to cater for visitors the security system at the main communal door would require a different and more flexible approach than the existing analogue audio door entry system could provide.
Quorum consulted Access Ability (UK) Ltd who suggested a software-based system that could easily by configured to provide access throughout the building and which could be changed as the tenant's needs dictated. If tenants required more space additional handsets could be quickly connected via a plug in facility to pre-wired points throughout the building.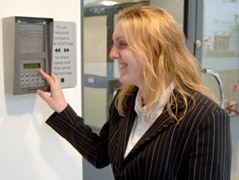 The system was quickly installed and Mr Slater, the Managing Director of Quorum Estates Ltd has been pleased with the rapid and efficient response to change requests which now no longer requires a tedious and expensive installation as with the previous analogue system but is carried out in minutes.
Access control for tenants through the main door was specified as ID recognition by proximity which now provides an easy to use system where users can be simply added or deleted and which also provides a high level of vandal resistance.
External cameras are linked to a digital CCTV system which has the capability of being viewed remotely through the Internet. Quorum appreciates the advantage of being able to carry out a clear visual assessment from a remote location.
Back to top