Rick Allan

Rick began his working career back in 1968 when he joined the GPO as an apprentice engineer. This was before British Telecom was created and the world was black and white! He worked in telecommunications for 24 years, leaving in 1992 to go full time into the security industry, an area with which he was familiar due to his involvement in an alarm company in his spare time previously.
Various jobs within this industry gained him experience in several other disciplines, including gate and rising bollard manufacturing. In May 1999, Rick created Access-Ability UK and remains the MD to this day. Married with two step children and a horse, he lives in Bollington just outside Macclesfield in Cheshire.
A big MotoGP fan, he enjoys his motorcycle, sports car, good food and fine wine and is continually trying to improve his cooking skills.
Barry Kimber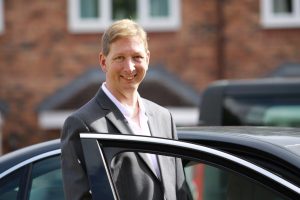 In 2005, Barry Kimber joined the business and took on the role of Technical Director.
Barry was a qualified electrician by trade and had spent some eight years running his own company repairing domestic and commercial electronic appliances. His particular area of responsibility is the management of installation projects and the structured maintenance programmes.
His pet projects include, the expanding door entry and access control business in communal residential housing and commercial offices.
His efforts have substantially increased the company's penetration into the Property Management market.
Barry is married and lives in Macclesfield, Cheshire, his main interests involve DIY, hotel breaks & going out at the weekend.
Mikki Tiamo

Mikki is the IT Manager (or Guru, as we like to call her) and has been involved in internet connectivity, networking, and computing side of the business since 2010. Her technical skills have enabled us to offer Virtual access for our clients to their building system even if that building is in another town, county or even country.
Mikki started her IT career in the computer games industry but got more interested in the hardware and network side of computing after a few years and has installed literally hundreds of local area networks, large scale network systems as well as multi-site networks which use secure internet connections to join multiple offices together.
Her role at Access-Ability UK is to assist the other engineers with network or internet issues, install cabling systems as well as troubleshooting access issues with Firewalls, Internet routers, and anything which has an Internet Protocol (IP) device connected to it.
As many of the systems we now install are IP based Mikki's extensive knowledge not only allows us to problem-solve efficiently but also keeps us up to speed with the latest technology.
Mikki also has the ability to talk about IT on a level the lay person can understand while still being able to converse with IT boffins in her native binary.
Mikki has been such an integral part of Access-Ability UK for a very long time, it is anticipated that she will become a Director in due course.
Outside of work Mikki enjoys long distance walking and is currently walking as much of the UK coastal path and has already done over 2,500 miles of the UK Coastline along with many other long distance UK walks such as the Pennine way and Hadrians wall.
Frank Glynn

Frank is our main sub-contract engineer and has become over the last few years, an integral and indispensable part of Access-Ability UK.
His vast experience includes thirty plus years in the Security Industry working on both standalone and large Integrated systems across all types of Industries.
He has installed, commissioned, and serviced CCTV, Access Control, and Door Entry systems using conventional analogue, to digital and the latest IP technology.
Much of his knowledge has been gained from the attendance of several generic and manufacturer's industry training courses, which include CCTV over IP, PAC, Paxton, Vanderbilt, Tyco, BPT, Videx, and many others.
At the weekends, Frank enjoys watching Manchester City, bike rides with his wife, socialising and exotic holidays.
Jay Cox

Jay joined the company in 2008 as an apprentice and split his time between installation and maintenance work for Access-Ability, plus gaining experience and qualifying as an electrician.
He continues in the role of an installation engineer on larger projects.
Married in 2017, he lives in Congleton, Cheshire and is now the proud father of one son, who he hopes will one day become as enthusiastic as himself about fishing.
When not sitting on a riverbank, he is coming to terms with the joys of owning a house and all matters DIY and gardening!
Scott Bilsborough
Scott is our in-house locksmith. From a simple mechanical lock to a multi-point motorised locking system, he does it all.
Scott and his father before him has been working with the company for the past 15 years and fitted locking solutions to all sorts of buildings and some very challenging doors. Whatever we throw at him, he rises to the occasion.
Scott lives in Chelford near Macclesfield in Cheshire.
His hobbies include mountain biking, snowboarding, travel and in-depth investigation of fine ales.
Bob Kimber
Bob is one of the most senior engineers, now semi-retired but still enjoys coming on board to offer his vast experience during the installation projects, particularly the more distant jobs around the UK.
He is old school, pragmatic and ever logical and his knowledge of installation, through to commission and hand-over, help set the company apart from others.
Clients are often bemused at the lack of visible cabling, and are genuinely convinced that equipment is battery powered or wireless technology.
His past experiences include, panel wiring, industrial machinery repairs, juke-box maintenance, NHS electrical testing, and maintenance electrician for the Bank of England.
His hobbies include gardening, cars, and eating out.
David Goldsmith
In the seventies David worked in the City, as a commodity broker and dealer, working for a several companies – with immaculate timing, leaving one 3 months before they started dishing out Porsches as company cars. With a long-held interest in electronics, he set up a company installing projector televisions and public address systems before being asked to 'have a go' at an access control installation: PAC's first multi-workstation system.
He continued the association with PAC/Stanley, supplying technical support for major clients. In 1999 PAC introduced him to Access-Ability and, for many years, he split his time between the two companies. He now works exclusively for Access-Ability.
Living near Eurotunnel Dave likes popping over to France to support the French wine industry !
He also likes cooking and spending time with his daughters.