The Genius Group Ltd (TGG) are business growth experts that deal with everything from designing and building websites to developing our own software Flo Panda which is a CRO tool that examines the flow of traffic on your webpage, diagnoses drop off rates to enable you to improve and get the best from your website. TGG use the latest technology to help brands increase traffic to web sites leading to more sales and higher conversion rates. TGG to was born from leading multi-million-pound businesses who are the single largest lead generator in the claim's management market.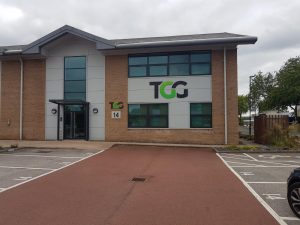 Access Ability were asked to install a Portal plus platform on the company's new building in Altrincham Nr Manchester as well as critical doors on the existing building.
A need for an intercom was also realised and this was to include an "out of hours" handset when reception was closed.
Joanne Boone, Finance Manager commented "The system works well for us across the two buildings with accountability on my laptop which makes it easy to add or delete users. We may well soon be looking forward to expanding the system as TGG grows.  The team at Access Ability have been instrumental in the security of our business and the customer service is second to none".