St Chad's is a secondary school with some 1100 pupils and 100 teaching staff located in a deprived area of Cheshire at the edge of a large housing estate.
The most recent OFSTED report carried out in September 2006 congratulated the leadership and management of the head teacher, senior staff and all those staff who are leading on the many things the school does to help young people develop personally and socially.
Terry Holland,the HMI inspector said: "We agree with many of you, and your parents, that the teachers in the school 'go the extra mile' for you. The way the school has high expectations of you in the way you behave and in what you can achieve.The way that you play your part in this: you really do know what's expected of you and the targets you are set and most of you are achieving well."
However the school was suffering from frequent acts of vandalism, which usually occurred at weekends or in the evening. A serious incident occurred in a one hour period when 150 windows were broken which caused disruption to the school curriculum and cost some £9000.
When a primary school about a mile away was burnt to the ground and the children had to be located in temporary accommodation St Chad's leadership team decided that an upgrade of their CCTV system was necessary to manage the risk of further disruption more effectively.
Adam Tate, the IT technician team leader, was given the task of finding a suitable digital CCTV system to replace their existing analogue CCTV system which was not providing clear enough images and had insufficient coverage of the widely dispersed school buildings.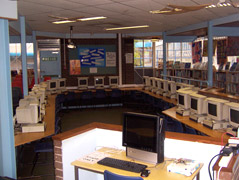 He consulted amongst others LookC Ltd, a leading UK manufacturer of advanced web enabled CCTV, who suggested that Access Ability (UK) Ltd of Congleton had a good track record and they were invited to tender for the supply and installation of a 27-camera system.
Following the successful installation Adam say's "We were impressed with the way that the company have looked after us and the reasonable pricing"
The plan is to shortly put in long-range perimeter sensors, which will additionally provide an early alert to permit an appropriate and timely response.
Multiple users can then be automatically alerted and all can view the images remotely through their own computers or smart phones. This approach will support the St Chad's philosophy of continuous and positive improvement, which, in this case, is through the more effective management of risk.
Back to top